Following a lengthy and unprecedented pandemic that many felt would never end, the nation and healthcare workers finally entered the "new normal" in 2022. But what's normal regarding the state of healthcare? Many of the same problems facing the healthcare industry before the pandemic, such as staffing shortages, were exacerbated during the pandemic and continue to cause issues at healthcare facilities across the nation. Vivian Health recently completed our annual survey to see how the healthcare workforce felt about the future of healthcare and their current and future employment in the medical field.
Purpose of the Future of Healthcare Work Survey
Each year, Vivian Health conducts a survey of healthcare professionals to learn their desires and attitudes about their careers. We created our 2023 Future of Healthcare Work Report based on what we learned from 1,663 survey respondents. As usual, what they had to say was enlightening. Employers looking to beef up their healthcare hiring to fill those ongoing staffing gaps may find this information especially helpful.
About Our 2023 Healthcare Survey Respondents
Our respondents were primarily Vivian Health users who responded via email, but we also sourced respondents through social media such as nursing Facebook groups and organic Instagram posts. We received responses from healthcare professionals across ages, disciplines, career experience and work settings.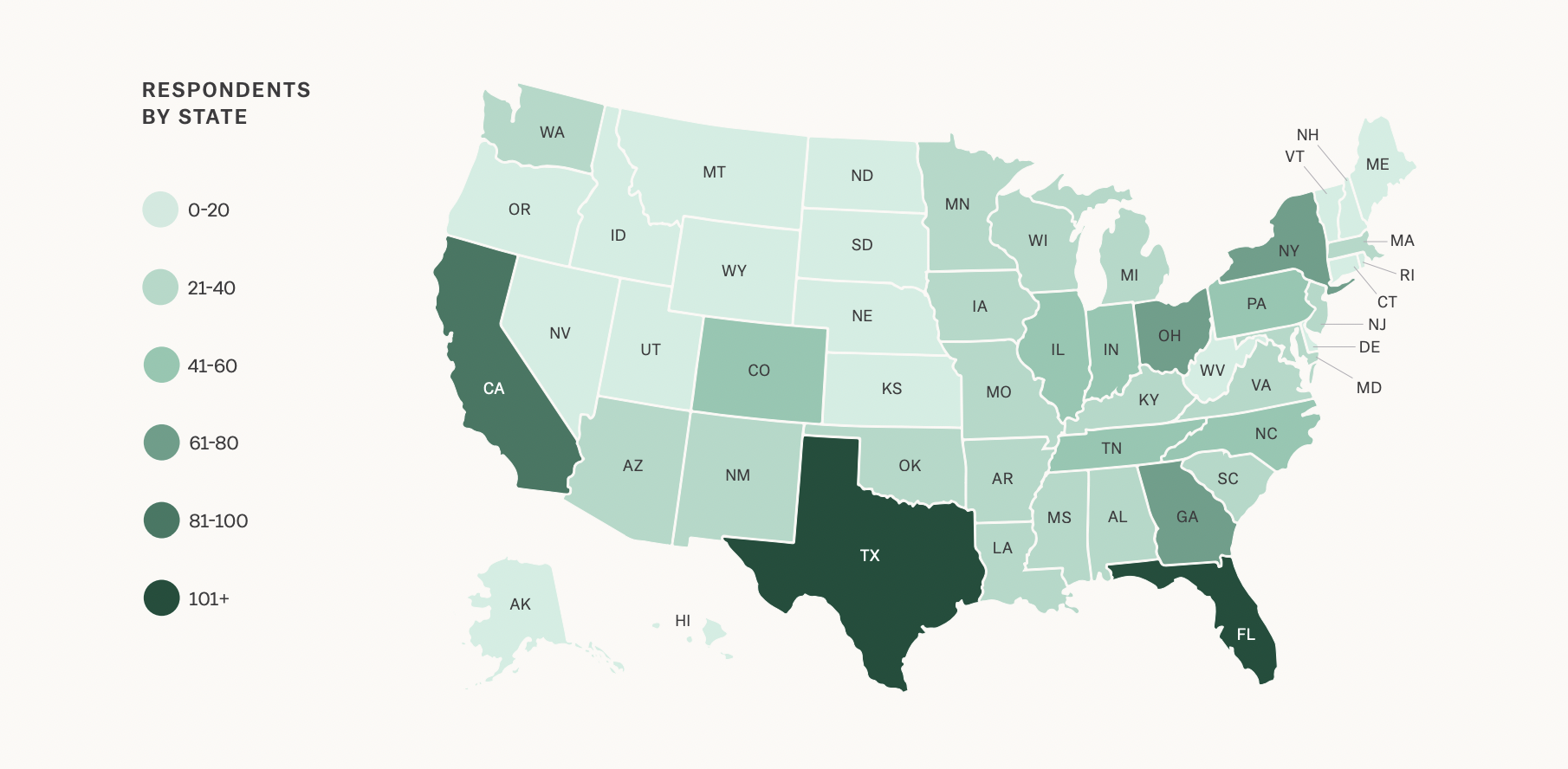 Age Groups
Our youngest and smallest group of respondents were under the age of 25, which represented about 2% of the pool. Conversely, respondents between the ages of 45 and 54 were our largest group of respondents, representing nearly 29% of the pool, followed closely by those aged 55 or older, with about 28% of the pool in this group. Other groups represented were 22% aged 35 to 44 and 18% aged 25 to 34.
Healthcare Disciplines
Respondents were primarily registered nurses, but we saw a growing number of allied health professionals participating in this year's survey. A small percentage of licensed practical/vocational nurses, 6%, and certified nursing assistants, 4.8%, also took part in the 2023 future of healthcare survey. The exact breakdown was as follows:
RN: 65.2%

Allied Health: 17.3%

LPN/LVN: 6%

CNA: 4.8%

Therapy: 2.7%

Nurse Practitioner: 1%

CMA: 0.7%

Non-healthcare: 0.2%

Advanced Practice: 0.1%

Faculty: 0.1%

Other: 0.4%
Years of Experience
Like ages, time on the job also ran the gamut, with our respondents having a broad range of experience. A small portion had fewer than 2 years of experience, while a large number had 3 to 10 years or 11 to 24 years of experience. A relatively significant percentage of respondents had 25-plus years of experience in their healthcare careers.


Employment Type and Practice Setting
Based on employment type, 80% of respondents were actively employed full-time, with 44% as permanent staff members and 36% as travel or short-term contract employees. Almost 18% of the remaining participants were also actively employed, with 11.5% working per diem roles and 6.4% part-time staff members. Another 6.6% weren't actively employed, and 1.2% were retired.
Of those actively employed, the most significant portion, 31.3%, worked in mid-sized acute care hospitals with 100 to 500 beds. The second-largest group, 24,4%, worked at larger acute care hospitals with more than 500 beds. Another 9.7% of respondents worked at small acute care hospitals with less than 100 beds, 8.3% worked at long-term care facilities and 7.7% worked at primary, ambulatory or outpatient care facilities.
A smaller portion of 3.7% of respondents worked at community or public health facilities, 2% at long-term acute care facilities and 1.1% at correctional facilities. With the rising popularity of remote care, it wasn't surprising that 1.6% had virtual care roles. The final 10.3% were lumped together in an "Other" category to encompass all the niche areas that didn't fit elsewhere.
Looking to the Future
One positive point of the 2023 survey is that the percentage of healthcare professionals considering leaving the profession decreased after rising significantly over the last two years. In our 2020 state of healthcare survey, 80% of respondents said they'd likely continue working in healthcare. After an epic year-long COVID-19 battle, 43% of respondents to our 2021 future of healthcare survey were considering leaving the healthcare profession. Following another year on the frontline, 63% of our 2022 workforce survey respondents said they were considering leaving healthcare within the next five years.
According to our 2023 Future of Healthcare Work Report, things may finally be looking up for hospitals feeling the strain of staffing shortfalls and spiraling costs of hiring replacements for unsatisfied healthcare staff taking part in the Great Resignation. Of those surveyed, 54.36% said they had no plans to leave healthcare within the next three years.
While that's a vast improvement over last year, 45.64% of respondents indicated they intended on leaving the healthcare field anywhere between the next 6 months and the next 2 to 3 years. The actual breakdown appears in the table below.
| | |
| --- | --- |
| Percentage | Timeframe they intend to leave healthcare |
| 7.40% | Within the next 6 months |
| 7.04% | Within the next 6 to 12 months |
| 12.15% | Within the next 1 to 2 years |
| 19.06% | Within the next 2 to 3 years |
However, an intention to leave the profession, doesn't necessarily mean they'll actually quit the medical field. It's merely the thought of that leaving might be the answer, potentially driven by ongoing stressors.
Preferred Employment Type
Healthcare staffing predictions for 2023 indicate that staffing shortages will worsen without flexible schedules. The pandemic introduced many clinicians to the world of travel jobs, and many grew to enjoy the flexibility these types of roles provided over traditional work environments. Our survey results reinforce this prediction as more respondents indicate that the type of employment they plan to have in 2023 are flexible options over full-time staff roles.
About 51% of survey participants indicated they would work full-time in travel or short-term contract roles or per diem positions, while just under 40% said they planned to work either full-time or part-time staff jobs. The remaining respondents either didn't plan to work in healthcare, weren't going to work at all or had other plans.
Active employment - full-time staff: 32.5%

Active employment - part-time staff: 7.2%

Active employment - full-time travel or short-term contract: 38.5%

Active employment - per diem: 12.7%

Not healthcare work – 4.7%

Not actively employed - prolonged break: 1.6%

Other: 1.8%
Outlook for Permanent Hiring
Hiring managers will likely face fierce competition to attract and retain top clinicians. To entice travelers back to the fold, they may need to get radical in recruitment strategies and strengthen permanent hiring practices.
The average per-hour rate travel nurses who took our survey said they'd accept for a permanent job was $56, up from $52 last year. Although year-end travel wages were down across most states at the end of 2022, wages still remained higher than pre-pandemic levels and higher than average staff salaries.
However, a good number of travelers are considering staff positions. Nearly 46% of survey respondents contemplating a permanent role said they were interested in full-time employment. Employers looking to snag healthcare professionals seeking a new staff job or career path should heed what's most important to them to help address perm staffing challenges.
Important Job Perks
Whether they were permanent or travel healthcare professionals, the most cited factor respondents said they looked for when seeking a new job was the hourly wage. Respondents could choose up to five things most important to them, so wages weren't the only thing that scored well. Factors that scored highest among survey participants included:
Hourly Wage – 89.40%

Benefits – 57.17%

Staff to Patient Ratios – 52.65%

Commute Time – 50.33%

Flexible Shifts – 48.23%
Several other factors also made the list, with percentages ranging from 24.83% down to 3.2%. Despite their having lesser importance, the following factors could also play a role in whether a job seeker accepts an employer's offer:
Facility Reputation – 24.83%

Career Advancement Opportunities – 23.07%

Professional Challenge – 19.54%

New Geographic Location – 16.78%

Mental Health and Well-Being Programs – 12.91%

Listening to Clinician Input – 10.15%

Playing a Role in Regional Staff Shortages – 8.61%

Continuing Education – 8.17%

Tuition Reimbursement – 7.73%

Nursing Shared Governance – 3.20%
Desired Benefits
Regarding the benefits included in a position, respondents had firm responses on what's most important to them. Nearly 76% of respondents said healthcare benefits, including medical and dental coverage, were highly valued. Respondents could also choose more than one benefits they liked most, so here's a breakdown of the top 10 benefits that all respondents found most attractive:
Healthcare (Medical/Dental) – 75.83%

Retirement Benefits/Pension – 65.48%

Vesting Length for 401K – 36.26%

Short-Term and Long-Term Disability - 19.60%

Tuition Reimbursement – 13.59%

Continuing Education – 13.05%

Life Insurance – 11.73%

Gym/Well-Being Programs – 8.42%

Childcare and/or Dependent Care – 4.75%

Financial Counseling – 3.55%
Vivian Health takes great strides to empower healthcare professionals nationwide to find jobs they enjoy and feel passionate about. Simultaneously, we strive to assist healthcare facilities with their hiring needs to help them fill open positions with top clinicians. If you're looking to hire at your healthcare facility, knowing what healthcare professionals want most in their next job is crucial.

Request the full version of the Future of the Healthcare Work Report 2023 to learn more about how healthcare professionals feel regarding their current and future employment in the medical field.