Researchers predict that the current shortage of physicians will only worsen and widen a gap that many healthcare facilities can't afford to get any wider. Advanced practice providers (APPs) often take up the slack when a healthcare facility is short on doctors. Even if your facility has a good number of doctors, APPs can help relieve their workloads while enhancing patient care. However, the demand for talented APPs means advanced practice recruiting has become more difficult. With so many hospitals and physicians' offices needing additional support to care for their patients, it's vital to find new ways to integrate advanced practice clinicians into your facility.
Shortage of Healthcare Providers
According to a June 2021 report for the Association of American Medical Colleges (AAMC), a severe shortage of primary and specialty care physicians is developing, potentially reaching a crisis level. The report covered supply and demand projections between 2019 and 2034 and projects a shortage of 17,800 to 48,000 primary care doctors and 21,000 to 77,100 specialty doctors by 2034.
However, this shortage may be even worse than initially projected. An October 2021 Definitive Healthcare report covering healthcare staffing shortages indicates that 117,000 physicians left the workforce in the last quarter of 2021. This mass exodus late in the year likely wouldn't have been accounted for midway through 2021 when the AAMC report came out.
One way to help combat the physician shortage is by integrating APPs into hospitals and other healthcare facilities that have found themselves short of staff doctors and struggling to provide adequate patient care safely.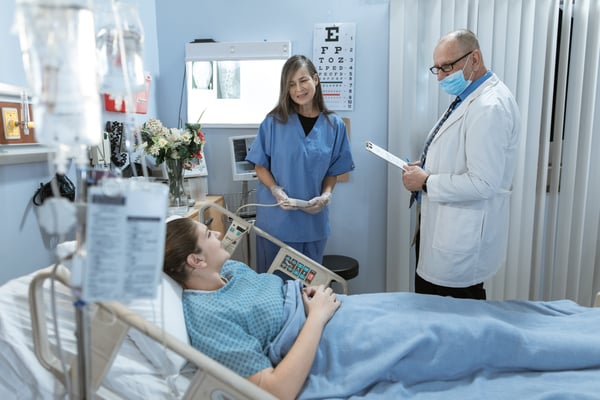 Types of Advanced Practice Providers
Two of the most common types of advanced practice providers are nurse practitioners (NPs) and physician assistants (PAs). These APPs can take on many physicians' tasks, and some of their duties overlap. However, NPs and PAs have unique scopes of practice, which vary by state for both.
Nurse Practitioners
NPs are a type of advanced practice registered nurse. Although a nurse practitioner's scope of practice varies by state, they typically conduct health assessments and physically examine patients to make a diagnosis and develop appropriate treatment plans. Other duties differ based on their primary patient population, practice role and state of practice. The State Board of Nursing primarily regulates NPs, but the state's scope of practice and licensure laws determine which services an NP may provide independently and which require supervision from a doctor or other medical provider.
As of early December 2022, NPs in 26 states, Guam, the Northern Mariana Islands and Washington, D.C., could pursue full, independent practice. Another 13 states, American Samoa, Puerto Rico and the Virgin Islands had reduced practice environments, and 11 states had restricted practice environments.
Physician Assistants
As nationally certified, state-licensed advanced practice allied health professionals, a physician assistant's scope of practice guides how they may examine, diagnose and treat patients. Each state has a PA licensing board, but PAs must undergo rigorous education and training before earning their license. PAs and NPs have many similarities at the practice level, but some key differences exist.
One primary difference is the type of education they receive. PAs receive their education in general medicine, with comprehensive coverage of all aspects of medicine. They complete their training following a curriculum patterned after the education provided in medical school. Conversely, NPs choose a patient population as their specialty, such as pediatric or geriatric patients, and receive their education based on this population. They complete their training in the advanced practice of nursing.
Once licensed, PAs may practice in every healthcare setting and specialty. NPs must earn board certification in their patient population and may practice in every healthcare setting within their specialty. However, as of early December 2022, all 50 states require PAs to have some sort of supervisory or collaborative arrangement with a physician. Although the exact nature of these arrangements differs, they can't practice independently as nurses do in more than half the states.
State law and facility policies primarily determine a PA's overall scope of practice, with varying laws governing different components such as supervision requirements and prescriptive authority.
Benefits of Integrating APPs into Hospitals
There are many inherent advantages to collaborating with APPs, but probably the most important is that they can enhance patient care when a hospital has limited physician time. NPs and PAs play key roles in providing the highest quality of inpatient and outpatient care while improving patients' access to healthcare through shorter wait times and greater availability of appointments.
The presence of APPs in a hospital's emergency department can have even more significant impacts. A review published in Human Resources for Health found that utilizing APPs in emergency and critical care settings substantially increases patients' accessibility to healthcare, with patients seen and treated quicker than when only physicians were available. Reducing the time for treatment in an emergency department means quicker turnover for beds and reduced burdens for doctors, who can now spend their time treating more critical cases.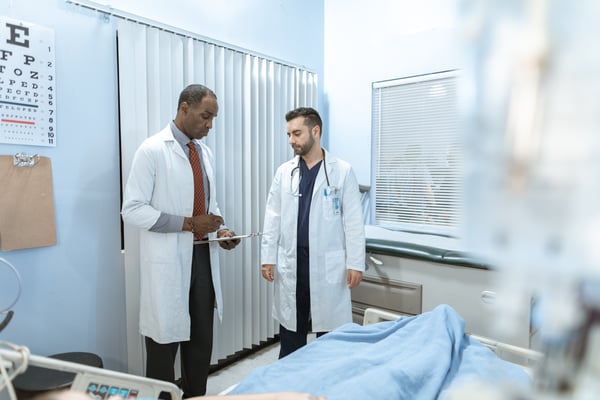 5 Ways to Get APPs Integrated into Your Hospital
Unfortunately, the same report that documents the high number of doctors who left the workforce in the last quarter of 2021 also lists a large number of APPs who left the healthcare field. According to Definitive Healthcare, 53,295 nurse practitioners and 22,704 physician assistants left the healthcare workforce, leaving fewer APPs for job openings and making advanced practice recruiting more difficult.
Competing with the integration of APPs in hospitals is more desirable employment in other settings. The U.S. Bureau of Labor Statistics (BLS) posted higher employment rates in physician's offices for both NP and PAs in May 2021. About 47% of NPs, nurse midwives and nurse anesthetists worked in physician offices compared to 25% in hospitals, while 51% of PAs worked in physician's offices compared to 23% in hospitals. Thus, advanced practice recruiting for hospitals has the added challenge of luring providers who might prefer a work environment that generally offers a more stable scheduling.
One potential plus on the hospital employer's side is that the BLS posted that the median annual wage in physician's offices was lower than in hospitals for both APPs. The median salary for NPs, nurse midwives and nurse anesthetists in physician's offices was $121,280 annually, while they earned an average of $128,190 in hospitals. PAs earned $121,010 in physician's offices and $127,240 in hospitals annually.
Besides potentially higher salaries, consider these five ways to get APPs integrated into your hospital:
Supply a Realistic Job Description: The first step in the hiring process should be creating a realistic job description with clearly defined duties and transparency of salary, benefits, shifts, etc. To attract advanced practice providers to your job posting, ensure you include essential details like patient volume, hospital initiatives and potential opportunities for continuing education, career growth and leadership roles.

Provide All the Information They Need: Ensure providers are given all the information regarding their new job well before they step foot into the hospital, so they feel comfortable and confident transitioning into their new role. When a new hire shows up at your hospital for their first day of onboarding and orientation and no one is there to meet them, or they don't know where to go to get started, they may feel overwhelmed from the get-go, and it's challenging to get back on the right footing.

Ensure Efficient and Comprehensive Onboarding: Every hospital has a unique practice style, policies and procedures. They also have varying expectations for performance and patient interactions. These are just a few things you should ensure you cover in your onboarding procedures. Onboarding and orientation are critical steps between advanced practice recruitment and retention, so boost your processes by formalizing your onboarding with detailed activities and phases to help new APPs successfully transition to their new roles.

Provide Comprehensive EMR Training: While EMR training is generally part of onboarding, we've separated this tip to reiterate the importance of providing adequate training. One of the top complaints of APPs and other healthcare providers who regularly use a hospital's EMR system is the limited training they received when they started. All systems have different functions, so even if an APP is familiar with using EMRs, they still need adequate training on your particular system. Limited training leads to frustration for the APP, employer and patients as the APP may take longer than necessary to input data. This frustration makes integration harder than it needs to be. Consider formal training and don't rush this part of onboarding to ensure the APP has ample time to become comfortable with this integral system typically used daily.
Know the Advanced Practice Provider's Value: APPs know there's a staffing shortage and that they have numerous employment options. They're valuable assets to healthcare facilities, so ensure they feel valued as an applicant. Being successful in advanced practice recruiting and demonstrating a clinician's value requires fast turnaround times, an inclusive work culture, safe working environments that include appropriate patient ratios and excellent pay and benefits.
APPs spend years obtaining the education and licensing they need in their fields, so don't keep them waiting. If you're looking to hire top-quality candidates, be prepared to act quickly and ensure they feel valued and respected throughout the hiring and onboarding processes to integrate the APPs you need into your hospital successfully.
Learn how you can hire advanced practice professionals to meet your staffing needs with Vivian Health.