Continued staffing shortages in nurses and other clinicians prompt the need for some radical healthcare recruitment strategies in 2022. Hospitals and health systems must embrace forward-thinking in their healthcare recruiting techniques if they hope to hire and retain the best talent now and in the future. In parts one and two of Vivian Health's Radical Recruiting Series, employers learned the benefits of pay transparency and optimal ways to leverage social media. This final installment focuses on mobile and advanced technology and how healthcare employers can use them to enhance their healthcare recruiting efforts and boost their talent acquisition and retention.
Digital communication is already mobile
A study released in February 2018 predicted that 97% of bedside nurses would be carrying mobile devices by 2022. It also indicated that a significant increase in usage would be seen among lab technicians, radiologists, pharmacists and other medical professionals. Now, it's 2022 and increased usage has become a reality.
Mobile technologies have dramatically enhanced people's lives over the last few decades, which includes healthcare professionals. These technologies expand medical workers' reach and speed of communication and provide them 24/7 access so they can communicate and make well-informed decisions faster. Clinicians already use their phones to search for jobs, so a mobile strategy must be front and center of all your recruitment efforts.
Reach more people quicker with mobile
One of the biggest benefits of mobile devices is the ability to have conversations at your convenience, when and where it suits the busy life of your clinicians. Mobiles also provide instant responses. The chance of booking an interview increases to 80% when a recruiter responds within three hours. This proven healthcare recruiting strategy makes it pretty compelling for recruiters to be utilizing mobile in their healthcare recruitment efforts.
Mobile recruitment strategies can reach all generations because all age groups are utilizing mobile devices in their job searches. While millennials may be the most active on mobile, Gen Xers and baby boomers also do most of their searching on mobile devices. Among the three generations, it's actually the baby boomers who've had the highest increase in mobile job search in recent years.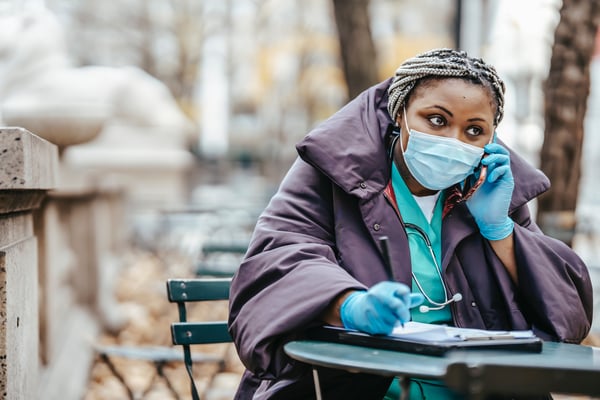 Mobile enhances healthcare recruitment strategies
In 2018, Americans spent 100% more time on mobile devices than on a laptop, and this trend hasn't changed. Therefore, being mobile-friendly can substantially improve your candidate experience. Mobile platforms are also equipped with innovative technologies that can connect you more effectively.
Employers of clinicians can leverage the artificial intelligence and machine learning found in these advanced technologies to significantly reduce the noise in the hiring process by intelligently matching jobs to the right candidates. The result is applicants are more likely to be qualified for the position you're attempting to fill.
On the other end of the spectrum, clinicians searching for the right jobs also have a difficult time with the many different opportunities available. Thus, the ability to reduce the noise and match candidates with jobs respective to qualifications is a significant healthcare recruiting tool that helps both the recruiters and the candidates.
Overall, productivity gains for both sides are pretty substantive. About 96% of recruiters already believe AI can help boost healthcare recruitment and candidates feel the same way. Now, it's just a matter of health systems adopting these strategies more comprehensively and taking them to market.
Key mobile tactics in healthcare recruiting
Key mobile tactics to deploy mobile in the right way are an important part of healthcare recruitment trends in 2022 and include mobile apps, texting and chatbots. Each of these applications offers a quicker, more interactive way to communicate and collect data.
Nearly 90% of mobile Internet time is actually spent on mobile apps. Mobile apps are even better than using a mobile web because they have built-in reminder notifications and other features that greatly increase candidate responsiveness. These apps also let recruiters tap into social media and cross-platform analytics. Mobile recruiting and social media apps, paired with artificial intelligence, can provide recruiters with massive amounts of useful data they can use when prospecting candidates.
Advances in texting and SMS notifications allow recruiters to have conversations with candidates at a time and location of their choosing. Plus, response and response times are much better. The open rate for text messages is 98%, compared to just 20% for emails, and response rates to texts are 50 times better than to emails. On average, the response time for texts is 90 seconds, compared to 90 minutes for email. Overall, texting provides a richer experience for candidates than they receive when going to a job board, then waiting for a recruiter to reach out to schedule an interview.
Chatbots ensure candidates get a quick reply and feel engaged. Although they send out auto messages, these messages often sound as if they're coming from a real person. In one study, up to 73% of candidates who reached out with basic questions about their applications couldn't tell they were interacting with a chatbot. Chatbots also help recruiters save time by handling as much as 80% of standard questions within minutes. Although chatbots are getting used more, Vivian Health believes they can handle even more complex scenarios when implemented properly.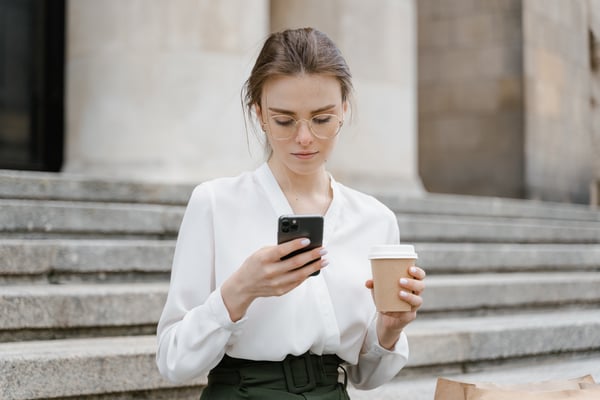 Focus on recruitment with Vivian
Focusing on mobile and advanced technology when combined with social media outreach and pay transparency can provide health systems with a competitive edge in healthcare recruiting. These radical strategies can also better equip them to face the unprecedented challenges of staffing their hospitals and other medical facilities in a time when staffing shortages are only predicted to get worse. Given that core staff recruitment plays such a crucial role in helping health systems reduce their reliance on premium labor, success in healthcare recruitment strategies today will result in a domino effect of either success or failure down the road. Vivian Health believes the time to implement these radical recruitment solutions is now and we're here to help.
"Health systems have a tremendous opportunity to leverage mobile and related advanced technologies to better engage with candidates," said Rashad Parmar, the Head of Strategy at Vivian Health, said during a recent webinar. "It should not be the case of [just a] few health systems identifying the need. We believe it's time the majority of the health systems go ahead and deploy these strategies."
Schedule a demo with Vivian Health to learn how we can help you tackle your healthcare recruiting needs today, tomorrow and long into the future.
Sources
Zebra: The Future of Healthcare: 2022 Hospital Vision Study, Mobile Technology Elevates Patient Care, Empowers Clinicians and Enhances Workflows
https://www.connection.com/~/media/pdfs/solutions/healthcare/791547-2022-hospital-vision-study.pdf
TechJury: 35+ Must-Know SMS Marketing Statistics in 2022
https://techjury.net/blog/sms-marketing-statistics/
CNBC: Get ready, this year your next job interview may be with an A.I. robot
https://www.cnbc.com/2018/03/13/ai-job-recruiting-tools-offered-by-hirevue-mya-other-start-ups.html