In the competitive talent landscape, efficiency enhances recruiting efforts. At Vivian, we strive to create product features that help our agency partners expedite the recruiting process. Part of creating the efficiency is allowing recruiters to gain access to important and perform most functions from the convenience of one location. This convenience allows recruiters to submit candidates faster. Our revamped profile and recruiter chat gives recruiters access to a full candidate profile within the conversations experience.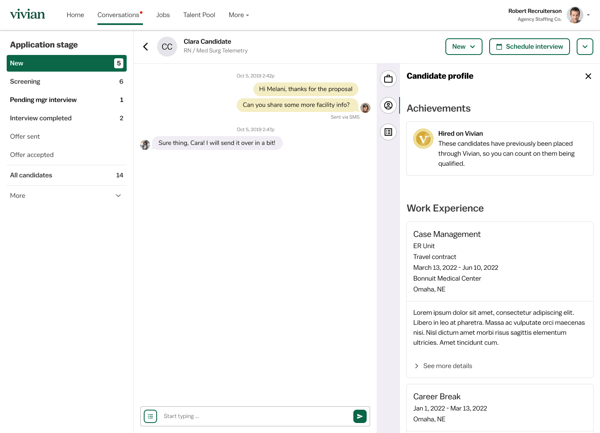 What's new and why is it important?
Previously, recruiters were only able to view candidate details, along with reminders, submissions, placements, and notes. With the update, recruiters can now additionally view an overview and the full candidate profile. Recruiters no longer need to generate a submission profile in order to have complete candidate profile access in the chat feature.
By having access to the candidate's profile directly from the chat feature, recruiters are able to ask candidate for any missing information prior to submitting them for a job. Additionally, with our new automated generated resume feature, recruiters have the ability to download a Vivian resume for a candidate.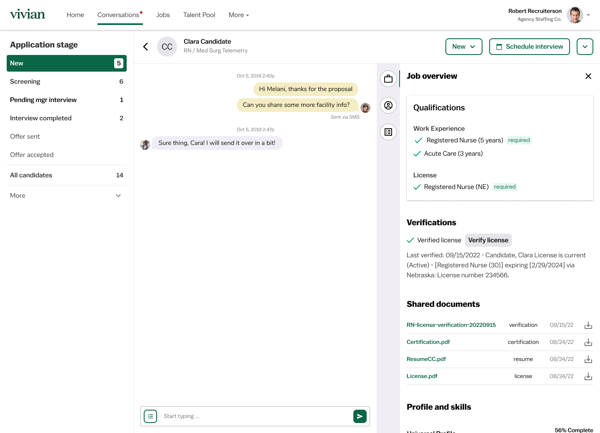 What this means for our agency partners
Submitting candidates for jobs has never been easier. Within the candidate profile, recruiters are also able to view candidates' Vivian VIP badges that demonstrate candidate quality and responsiveness. It also provides them with the ability to utilize the license verification feature, which allows them to verify candidate licenses prior to job submission. Having all of the candidate information stored in one place saves time and effort in getting candidates closer to their dream job.
If you're looking for a more faster way to submit candidates for job, get started by scheduling a demo.