Credentialing during the hiring process can be complicated and time-consuming, but necessary in order to get candidates submitted. Vivian's new license verification feature helps alleviate some credentialing stress. With the license verification feature, recruiters are able to verify candidate licenses directly on the platform.
Criteria for successful verifications
Our partner agencies have access to this features through the candidate's profile, and can take up to five minutes to verify. In order to be verified, the tool sends the candidate information to the state's licensing board directly.
To be verified successfully, the candidate must meet the following criteria:
Candidates must be an RN
Candidates have entered a license entry that include their License Number, License Type (must be RN), and State
Once verified, the licensing board will send back a PDF confirming license validity. If a license can't be verified, recruiters will need to wait 15 days from the time it was verified in order to submit again.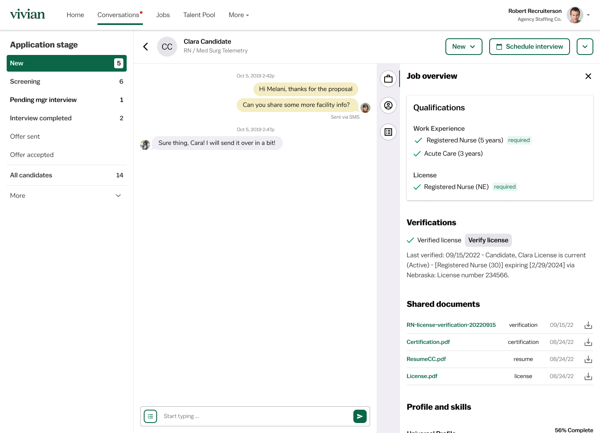 What this means for agency partners
This new product feature allows recruiters to quickly verify clinicians' licenses without having to jump through hoops. By having access to the verification tool on the platform, recruiters will be able to ensure that candidates who apply to jobs in a certain state are able to practice in that state. The verification will then allow the candidates to be moved through the hiring process quickly.
We're committed to providing more value to our partners and ensuring you move along high-quality candidates as efficiently as possible. If you're looking further speed up the recruiting process, get started by scheduling a demo.