Unlike other platforms, Vivian Health isn't trying to cut out the recruiter - they're empowering the recruiter and the candidates on the other side".

- Mark Zabludovsky, Director of Healthcare Recruiting at ARMStaffing
Challenges:
Lack of talent pools primed for travel was stifling growth for their travel division.

Explaining travel job requirements to candidates slowed the team's speed to submission.

Competing against the bigger agencies for visibility was a challenge.
Results:
Doubled the team using Vivian Health to meet demand, growing their travel division.

Increased their speed to submission with travel-ready candidates with complete profiles.

More visibility for their jobs and agency, making them more competitive.
ARMStaffing (ARMS) is focused on placing the most qualified medical professionals in jobs they love. The healthcare staffing agency is passionate about helping candidates find personal fulfillment throughout their careers and are invested in building lasting relationships with every candidate.
ARMS covers every segment of the healthcare market but they were eager to expand their travel healthcare division.
That's why Mark Zabludovsky, Director of Healthcare Recruiting at ARMS, was thrilled when he started using Vivian. "It helps us generate more business", says Mark. "We've assessed and worked with so many different platforms - let's just say Vivian is the only one that's still standing".
Making the platform a part of his team's everyday processes was easy too. "I'm a big user interface guy", explains Mark. "I love when things are beautiful and simple and Vivian hits those marks. The whole team has Vivian on their phones and use it every day".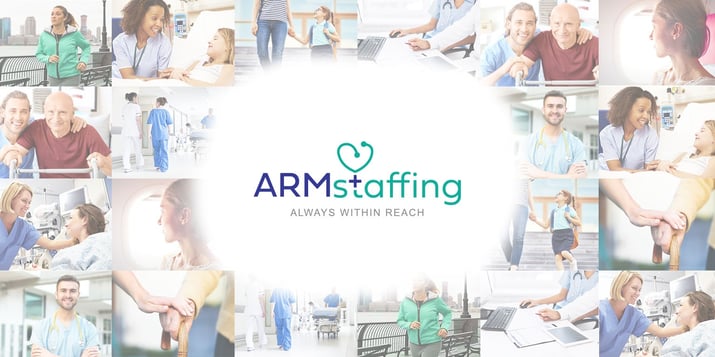 Putting ARMS recruiters two steps ahead
Before Vivian, Mark and his team would hit the phones working off of a database filled with nurses and other healthcare professionals. The issue was, these databases weren't always updated, and they certainly weren't focused on travelers. "You can reach out to them, but then you've got to explain the benefits of travel nursing - they're not actively-seeking travelers", explains Mark. This slowed down the team's speed to submission and the ability to place candidates quickly.
Luckily, ARMS' Director of Marketing connected with the Vivian team at an SIA conference. The agency's focus on relationships made candidate retention a core strength of theirs, but they needed something to help them quickly tap into a nationwide pool of talent looking for travel assignments to expand that side of their business.
"We started using Vivian and saw it performing ten to one compared to our other tools," says Mark. "It's been a catalyst in helping us move faster".
With Vivian, ARMS is growing a database of qualified candidates who are actively seeking placements and understand what travel is all about.
"We're connecting with travelers that we know are qualified because all of their specialties and certifications are there in the Universal Profile and Skills Checklist - with Vivian Health we're already two steps in on a three-step process".
What ARMS really loves about Vivian compared to other platforms is that recruiters can go out and propose jobs to candidates. "With Vivian we're not just waiting around for an application to come in - recruiters can drill down in the talent pool based on certain criteria to fill specific jobs."
Vivian isn't just empowering recruiters, but candidates too. Before Mark went into recruiting, he was a travel nurse himself. "From a nurse's perspective, it's great to see all of the pay and job information on Vivian- everything you need to know is listed upfront", explains Mark. "If I went back to nursing tomorrow, I would only use Vivian.
A more modern approach to recruiting
Since implementing Vivian , ARMS's travel division continues to grow. "Initially we had five people on the travel side using Vivian, and now that division has doubled", explains Mark. A large part of ARMS's success with Vivian is attributed to the time they're saving.
"We're not cold-calling anyone and having to explain what these travel positions entail - the candidates already know and have all of their information uploaded".
It's also been a lot easier to connect with candidates and nurture relationships, something that's really important to ARMS. "I love the chat feature", says Mark. "I can see all of the conversations my recruiters are having and how they're progressing". "The chat functionality enables us to better kickoff those conversations and build relationships over time".
The way Mark sees it, Vivian is leveling the playing field for agencies, big and small.
"I want this company to grow its national presence and Vivian Health is helping us do that - it brings candidates to us. I plan on using Vivian with every recruiter I bring on".
Vivian has also helped ARMS rethink some of its processes to stay competitive - it's making the agency more "modern", as Mark puts it. "If we're not submitting someone an hour after they get in touch with us on Vivian, someone else will get submitted through another agency for that same job. It's made us realize we need to do things a little differently, and that's a good thing", explains Mark. "I feel like we're getting more modern with Vivian - it's bringing us up to speed with the rest of the pack".
Mark and his team not only feel empowered, and deeply supported by Vivian. "Anytime I need help I know I can contact you guys and get support right away. It's one of the many reasons we've decided to focus on doing business with Vivian."