At Vivian, we are committed to providing our healthcare staffing partners with the technology and resources to help them communicate with qualified candidates more efficiently. With an average time-to-hire of 90-120 days in the healthcare industry, it's imperative that recruiters have the ability to increase the volume of candidates in the pipeline while still providing candidates a smooth hiring experience.
There needs to be a more effective way to monitor recruiter metrics and behavior. To respond to this issue, we have created standard templates for recruiters to use in hopes of expanding candidate outreach.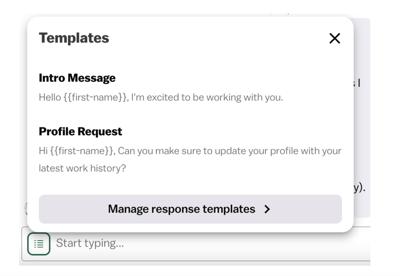 Standard Templates for Frequently Used Messages
Now recruiters can save time talking to candidates by creating standard message templates for frequently used messages. Here's what you can expect:
Create standard templates for common scenarios
Insert the template when chatting with a candidate
Ensure every candidate gets a quick response when working with you
What this Means for our Healthcare Staffing Partners
With standard messaging templates on hand, recruiters can now expand its sourcing and recruiting by being able to reach out to a larger volume of candidates. With over half a million candidates on the Vivian platform, these templates will ensure no quality candidates goes unnoticed and will assist recruiters in reaching out to candidates faster than ever.
We're committed to providing more value to our partners and ensuring you connect with high-quality candidates as efficiently as possible. If you want to get started expediting your recruiting process, you can learn more here.