"Vivian Health has been incredible in helping our division connect with qualified candidates, with a speed to market that really helps our healthcare system out."

- Adam Williams, President of Travel at AHC Staffing
Challenges:
Sourcing candidates was time-consuming and hurting recruiter productivity with little ROI.

Lack of pay package details on jobs meant recruiters spent additional time educating candidates on roles, slowing their speed to submission.

Recruiters spent days collecting documents from candidates to submit them for jobs, sometimes missing the window entirely.
Results:
Increased recruiter productivity by connecting them with qualified candidates looking for jobs in real-time while building a "golden pipeline".

More efficient and meaningful candidate conversations since pay package details are listed on jobs, enabling recruiters to submit faster.

Complete profiles allow recruiters to submit candidates in minutes and get more placements.
Accountable Healthcare Staffing (AHC Staffing) is an award-winning agency focused on finding candidates their perfect role. Named one of America's best recruiting firms in 2020 by Forbes, they've been recognized as an outstanding employer in the healthcare industry. In their view, if their candidates aren't happy, they've failed.
Adam Williams, President of Travel at AHC Staffing, was looking for innovative ways to help his company grow and connect with qualified candidates. When he took on his new role, he listened to recruiter pain points and realized they needed another solution to help increase productivity and placements. "We weren't getting a lot of traction with the other platforms we were using", explains Adam.
Luckily, he and his team found just what they needed with Vivian Health. "I've seen a ton of improvement with my headcount in terms of how many candidates I've been able to place", says Faizey Agyepong, Recruiter at AHC Staffing. "It's made a big difference in my book of business."
A night and day difference in time saved
Before Vivian, Adam's team of twenty recruiters had a very manual process. They'd send mass emails and text messages to a database of candidates and post in Facebook groups hoping for the best. "With our other platforms, we had to mine for leads - to really dig for them", explains Adam. Looking for qualified candidates was time-consuming and didn't generate the best results.
The team also had to go through tons of resumes, most of which were outdated. Between digging for qualified candidates in databases and the time lost gathering documents for submission, recruiters would struggle to place candidates on time. "Candidates would take too long with their application and the position would get filled before we could submit them", explains Faizey.
That's why the team was thrilled with Vivian's simplified process. "It used to take me a couple of days to place someone, but with Vivian I can place them in minutes". Candidates have complete profiles and up-to-date skills checklists highlighting their specialties and certifications - you're not chasing anyone down."
"The time saved is a night and day difference", says Adam.
Recruiters also spent a lot of time discussing pay package breakdowns with candidates since they weren't posted on jobs, which slowed the process further. "On other platforms, you have to talk about pay because the breakdown isn't posted", explains Faizey. "With Vivian, everything is there - you don't need to deal with all of those questions. It's so much faster."
For AHC Staffing, the quality of candidates on Vivian and its ease of use gives them speed, a competitive edge in a fast-paced market. "I can take a recruiter through a thirty-minute training and they'll be up and running with several leads right after", says Adam.
A simpler and more successful recruiting process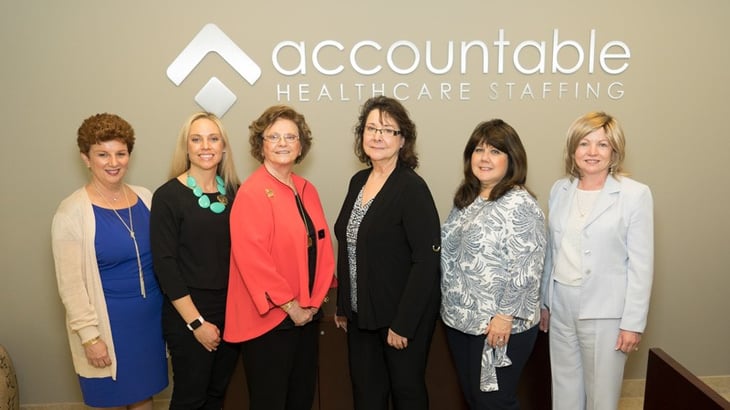 AHC Staffing has seen a clear return on investment with Vivian. "We've placed around forty candidates in less than six months with Vivian, which is fantastic. We're building a golden pipeline", explains Adam.
It's increased the agency's speed to submission and simplified their entire process. "Vivian really streamlined the middle of our recruiting process", explains Adam. As he puts it, "Vivian is real-life, real-time" - recruiters are able to connect with qualified candidates in real-time and submit them for jobs quickly since all of their information is already uploaded.
"Even if a job a candidate applies to gets filled, you can redirect them to other jobs because you can see what licenses and certifications they have", says Faizey.
"I've only been using Vivian for one month and have already placed six candidates. If you can respond to candidates quickly in the chat and get them submitted, I'd say there's almost a 100% chance of booking them."
Being able to make changes quickly is something Adam and his team value too. "I feel like Vivian is a speed boat versus a cruise ship - I can make changes to job postings and pivot quickly, which isn't the case with other platforms."
Thanks to Vivian, recruiters have been able to get more of their time back so they can focus on nurturing relationships and getting in front of more candidates. "Having serious candidates looking for jobs with complete applications has given me more time to focus on follow-ups with nurses I'm currently working with and getting more placements", says Faizey.
"It's not easy asking your company for budget", explains Adam, "but the ROI on Vivian has made it easy. The product works. It's saved us a ton of time. It's easy to use and a great return on investment. We plan on investing even more in 2021."