Challenges:
Lack of travel nurse talent pool
Could not have meaningful conversations with travel clinicians due scheduling
Not having a clinicians' documents in one place extended the recruiting process
Results:
Submitted candidates as quickly as 3 hours
250+ hires in the past year, 70 in the past 3 months
Expanded from two clients in two states to 2000 clients in all 50 states
Year-to-Date Metrics:
10,000+ candidate applications
1,000+ candidate submissions
300+ candidate offers
250+ candidate hires


---
IDR Healthcare (subsidiary of IDR, Inc) is an award-winning, employee-owned healthcare agency that aims to deliver quality healthcare talent. They believe in sharing their success with internal and external employees, which led to the creation of their ESOP. Internal employees and travel clinicians placed with them get equity in the company after only one year of service. This is a huge differentiator as the share price has increased 220% over the past five years.
IDR Healthcare was born out of a sense of duty to be a part of the solution and make a positive difference within the healthcare ecosystem. They started with 3 employees and quickly expanded to 40 internal employees, achieving a $50 million run rate within the first year. They've grown their client base from two in two states to 2000 in all 50 states.
Headquartered in Atlanta, GA, IDR Healthcare has several offices around the country and is continuing to expand into new specialties and in new locations.
Advanced Technology Generates Immediate ROI
Before Vivian, the team at IDR Healthcare relied on job boards, social media, and cold calling, but had very little success in connecting with clinicians. IDR Healthcare's main focus was trying to fill travel nurse roles, however they struggled to find convenient times to engage with candidates during a busy shift.
Although previous job boards led to a few inbound applicants, the technology was not as intuitive in transferring open jobs from their ATS to the job board.
"Vivian's tech was definitely superior; it enabled us to streamline those processes."
When they first started searching for a platform, they were looking for a marketplace with a talent pool that consisted of travel nurses and healthcare professionals, which did not exist at that time. They found it with Vivian.
Although they had initially started on the lowest tier plan, they upgraded to the highest tier plan within a month due to an increase in candidate engagement.
"We got an immediate ROI in seeing how many people were out there and it was able to help us attract talent immediately."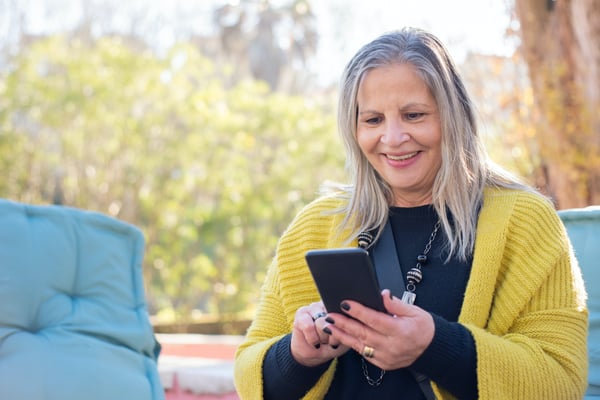 The Biggest Difference: Meaningful Engagement
The biggest challenge IDR Healthcare faced was finding a convenient time that would allow the team to have meaningful conversations with travel nurses during a shift. Not only did the team benefit from Vivian's large pool of nurses, the platform's features addressed their scheduling challenge. The real-time chat feature allows the recruiters to engage with hundreds of travelers a week, and gives clinicians the ability to respond during a convenient time.
Having completed candidate profiles prior to engaging with the candidates further added to recruiting efficiency.
"It cut down taking 5 days to get a completed profile, and then missing out on that position, to now- their profile was already completed before we engaged with them. We were able to get them submitted within hours instead of days."
Being able to upload required documents to one spot makes it an overall seamless process for clinicians and allows recruiters to move them through the process more efficiently.
However, the greatest return on investment was IDR Healthcare's retention, as they fortified relationships with the clinicians. "There has been significant return on investment from Vivian. We've increased our acquisition of healthcare professionals and have been able to retain talent that possibly would have never heard of us without Vivian." The relationships the recruiters have fostered are a testament to the unique, high-touch, positive experiences they provide each clinician. Their mantra is "as soon as we speak to a clinician, they should feel the IDR difference. If we put our values into action, we should be the last agency they ever desire to work with!"
What's Next for IDR Healthcare?
Given their rapid growth and service first mentality, IDR Healthcare hopes to keep increasing their footprint and establishing themselves as a go to, trustworthy agency that provides clinicians the most fulfilling experience possible while they provide precious care to those in need. The success they found in clinician acquisition has enabled them to attract more clients which has been a tremendous outcome. They also plan to expand their book of business by adding Allied Health and Therapy disciplines within the next year. Despite their success and growth, they still strive to give clinicians the most positive experience and maintain a level of trust, discipline, and commitment from start to finish.