Since COVID-19 has been declared a pandemic, we've witnessed many acts of humanity from people coast to coast. We are truly inspired by our community of nurses & healthcare professionals as they rise to these unprecedented times and work through dark moments to ensure safety and prevent panic.
Coronavirus is now in all 50 states and is placing significant pressure on healthcare systems. We are already seeing the beginnings of that pressure result in a rapid increase of travel healthcare assignments posted to Vivian Health as hospitals urgently seek healthcare professionals to meet the rapid increases in demand.
We created Vivian Health to reimagine how travel healthcare professionals find work, helping make that process easier and faster. With the rise of COVID-19, we're more committed than ever to empowering you to help our communities get past this trying time.
This week we launched a dedicated COVID-19 jobs portal to identify the highest need opportunities to alleviate the concerns and challenges that many hospitals are facing.
Browse the COVID-19 Job Portal
With the demand for nurses and other medical personnel evolving by the minute, we're tracking the data that speaks to how nurses are being compensated, where they are needed most, and what positions are in highest demand. We've put together a few data points to show this demand for nurses around the country. These needs are highly dynamic and we'll do our best to keep you updated with the latest information as it evolves.
Where Nurses Are Urgently Needed?
Needs are changing daily. As of 3/19, there has been confirmed cases of COVID-19 in all 50 states. The states that have recorded the most cases and deaths are most in need, but as other states' hospitals begin to ramp up their staffing, we are seeing demand across the board.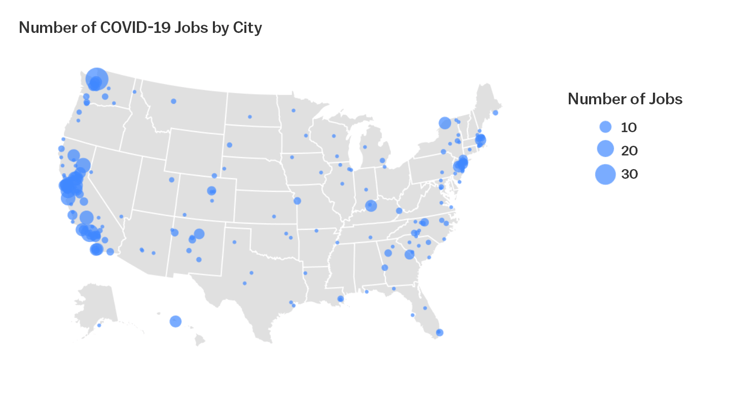 U.S. hot spots
We are seeing increased demand in certain states for a number of travel nurse job specialties this month in response to COVID-19. Massachusetts is showing the highest spike with more than four times the amount of nurses required over the previous period.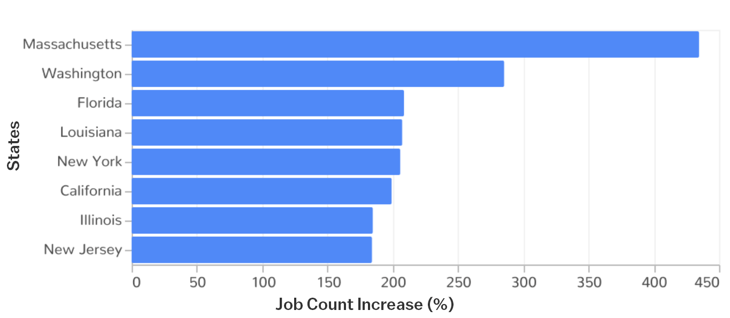 We are also seeing states such as Hawaii, Mississippi, Rhode Island, Delaware begin to ramp up hiring as the number of cases detected continues to grow.
As demand for nurses across the country increases to treat COVID-19 as we describe above, the average weekly pay for travel nurses has also increased dramatically. We saw a 76% increase in average pay nation-wide since March, with increases of up to 90% over the average pay in Washington.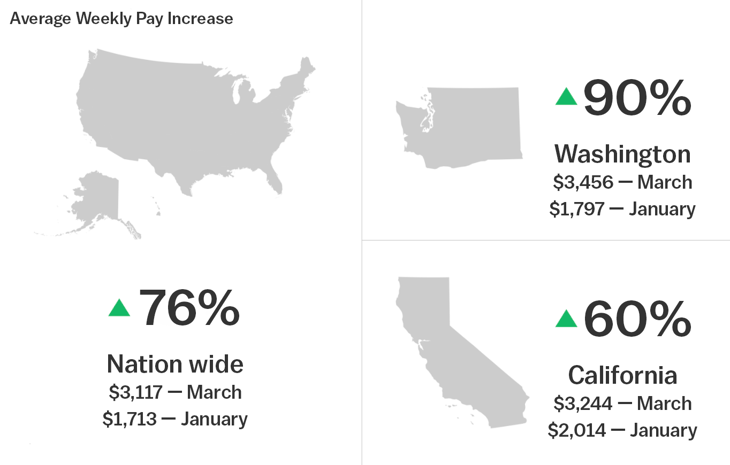 Hospitals are paying up to $4,400 for crisis rates
Hospitals are paying Crisis/Pandemic rates to quickly staff up for the caring of COVID-19 patients. We've seen pay rates of up to $4,400+ per week. These rates are in response to the urgency for staffing these hospitals, and to ensure that nurses are appropriately compensated for the challenging working environment during this time.
ICU & ED Nurses are in highest demand
Across the board, we've seen most specialties spike heavily due to demand, but our findings from the past few weeks show the following specialities are in particularly high demand as they are directly treating patients affected by COVID-19.
Intensive Care Unit (ICU)

Emergency Department (ED)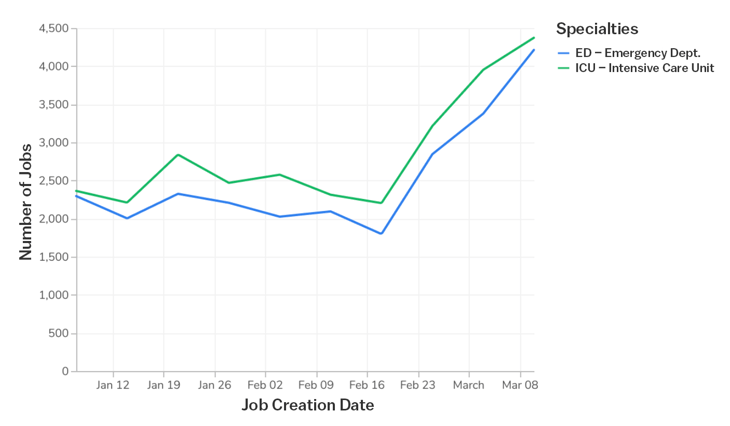 In March, we have also seen an increase in demand for:
Jobs for nurses who specialize in Infection Control increased by more than 100%

Jobs for Respiratory Therapists increased by more than 50%

Jobs for Med Surg / Telemetry / Intermediate Care Specialities increased by more than 70%
Ready to help with COVID-19 efforts?
We're keeping an updated list of assignments at vivian.com/nursing-jobs. Apply now and we'll immediately put you in touch with a recruiter that can give you more information.
Know of any others who might want to help? Please share our COVID-19 Facebook post with any healthcare professional friends who might be interested.
Our offer to governments and public health agencies
Beginning on Thursday, March 19, 2020, we are offering a free one month subscription for government and public health agencies to access our technology and network. We believe this will lessen the burden for the most urgent staffing needs across the country. Our commitment is rooted in ensuring that qualified and talented nurses have access to the widest range of opportunities, and can get placed across most in-demand positions.
Contact us at sales@vivian.com for more information.
Ensuring the safety of our community of nurses and healthcare professionals
We all need to stand together and advocate for the safety of those in our community! We cannot get through this without keeping our healthcare workers functioning and healthy.
There have been reports of some hospitals running short of PPE supplies. We strongly encourage you to ask your recruiter about the preparedness of the hospital before you take an assignment to ensure you understand the risks involved in taking an assignment treating COVID-19.
Most importantly, nurses and healthcare professionals, we need you to stay healthy, and we urge you to make sure you protect yourselves.We encourage you to read these recommendations provided by the American Nurses Association to protect nurses, healthcare teams, and the public.
We've put together some handy resources for nurses
General COVID-19 Situation:
For best practice guidelines on infection control, standard precautions for all patient care and transmission-based precautions, visit: