Vivian Health helps you connect with qualified candidates that are actively looking for work and place them in jobs they love. One way we do this is by surfacing your jobs to relevant candidates using sophisticated online marketing and allowing them to apply directly to the opportunities they want. The second way we do this is by allowing recruiters to send jobs directly to qualified candidates who meet their job criteria.
Vivian's digital talent pool of 500K+ active candidates makes all of this easy, whether the candidates or jobs are local or across the country. The Talent Pool is one of the most powerful tools we offer recruiters and our latest update makes it even easier to find great healthcare professionals and propose jobs to them.
Get a better view of the candidates that fit your exact job criteria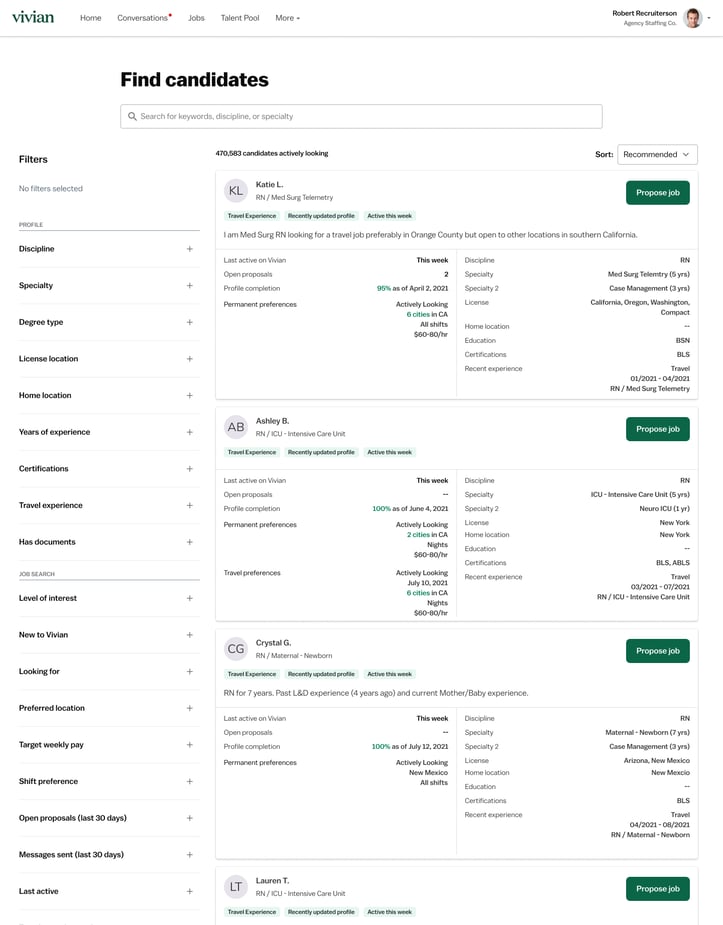 Now it's easier to see which candidates are the best fit for your jobs with a new view that makes filtering for specific criteria you're looking for more visible on the left-hand screen.
Saving your searches is easier too with Tracked Searches. Select all the filters that fit your criteria and be automatically notified as new, matching candidates sign on to the platform or manually check-in on your Tracked Searches directly from your Recruiter Dashboard.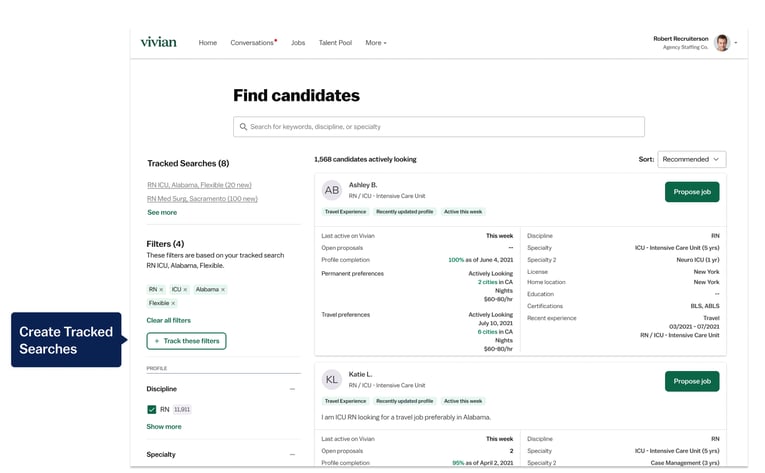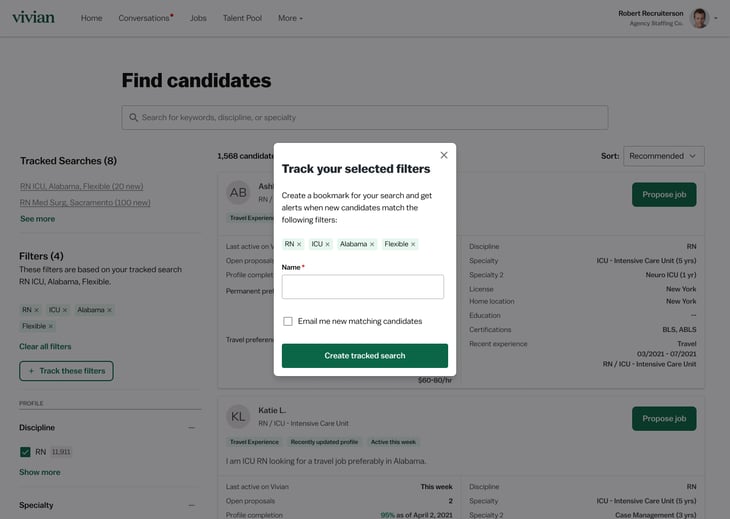 Sort candidates and propose jobs, seamlessly
New sorting functionality makes it easy to sort through the talent pool for things like new candidates on the platform, with dramatically more information-rich cards for each candidate that you can quickly glance at and decide if you want to reach out.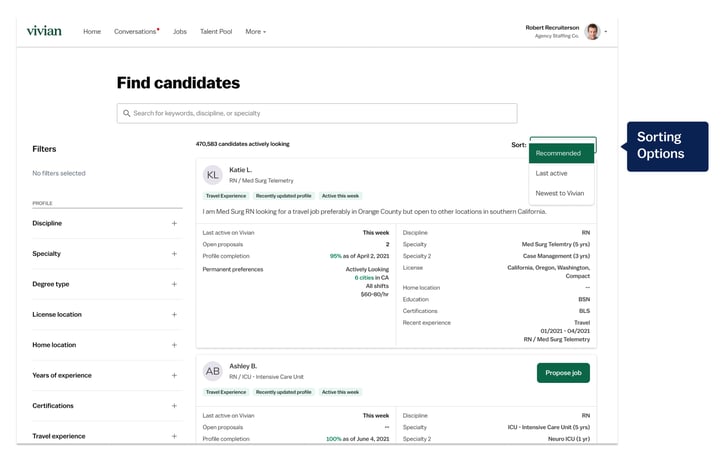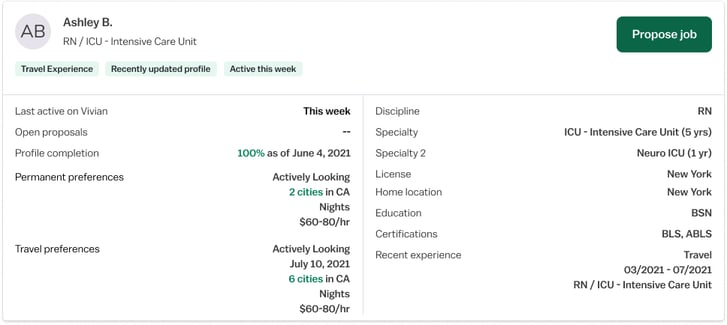 The process of proposing jobs to candidates has a faster, simpler flow too. Whether proposing a public job posted via an integration or whether you opt to propose using a manually-posted, private job, simply select it and propose it to a candidate.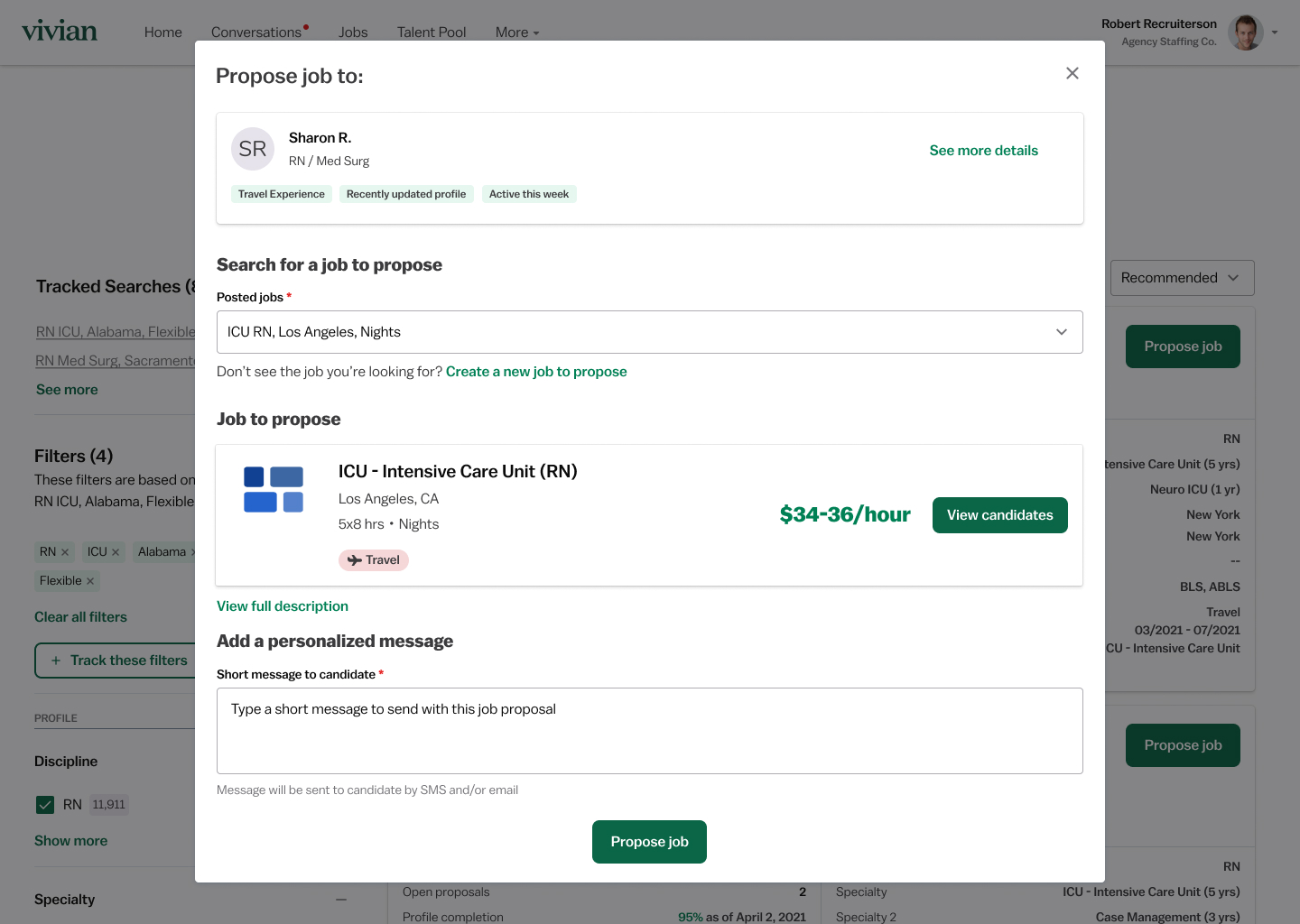 See every posted job and edit or post yours from a single screen
We've heard from a lot of recruiters that the first stop on Vivian was often the Browse Jobs section, a view that was tailored to candidates' needs. We've revamped this view to give recruiters quicker access to their company's jobs, jobs that they've posted themselves, as well as an all-new view into private jobs used exclusively for proposals.
Of course, we realize recruiters also browse jobs on Vivian to check out the competition, so a quick click to clear filters will bring them back to the candidate experience where they can browse all the jobs on the platform and ensure their offerings are competitive.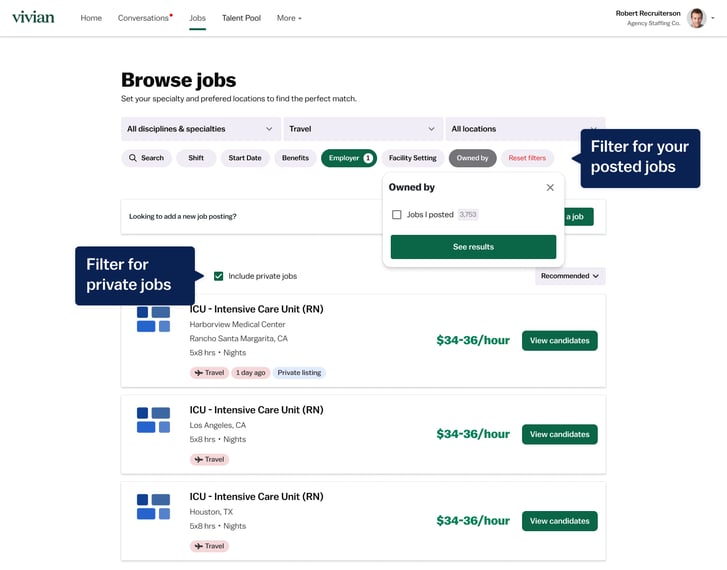 --
At Vivian, we're reimagining the recruiting process so you can focus on what you love and do best: finding and placing healthcare professionals in jobs they love. If you're interested in seeing how Vivian can supercharge your recruiting process, schedule a demo.