As a recruiter, you should be able to focus on your candidates and moving them through the process to fill your jobs. What you shouldn't have to do is work so hard to keep track of all the moving parts.
At Vivian Health, we're reimagining the recruiting process so you can focus on what you love and do best: finding and placing candidates in jobs they love.
That's why we're excited to introduce Vivian Health's new Recruiter Dashboard, an all-new starting point for your recruiting efforts.
With the new dashboard, you get a bird's eye view of your:
Weekly success metrics

, including submissions and placements

Active conversations

with candidates

Agency's publicly posted jobs
Tracked candidate matches

, so you can respond faster if you track your searches in Vivian Health




In addition to this, the Resources & Blog and Future of Vivian Health sections make it easy to access our content to support your process as well as provide feedback on what updates you'd like to see next in the platform.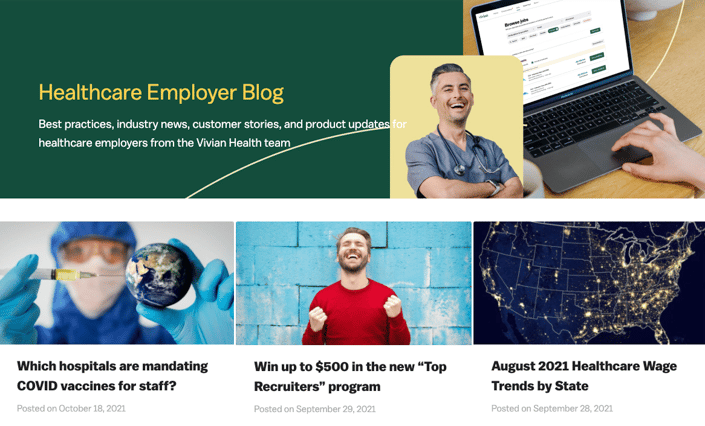 Everything you need to be even more amazing at your job.
Here's a breakdown of the new dashboard and how to make the most of it:
My Metrics
When the rubber meets the road, it's all about finding the right candidates for your assignments and getting them placed. Your metrics widget lets you know how you've been doing over the last week - keeping track of your active conversations, submissions, and placements while encouraging you to respond to candidates quickly to gain that upper edge.
My Conversations.
Keeping in touch with candidates is key as you move them through your recruiting process and this section of the dashboard makes it easy to respond to and follow up with candidates quickly so you can get them submitted and placed.
Jobs
Many recruiters told us they like to kick off their process by checking their agency's publicly posted jobs on Vivian Health so we made it easy to get a filtered view of your company's jobs directly from your dashboard.
Tracked Searches
Find the perfect candidates as they sign up or express interest on Vivian Health with tracked searches. All you need to do is set your search criteria and Vivian Health will email you candidates that match what you're looking for as they appear, or you can jump directly to the search results that now live in your dashboard.
Resources & Blog
Now it's easy to access content from the Vivian Health team, like industry insights, updates, and tips that'll help you excel at your job. If you'd like to check out our latest articles, hop over to this section to see what's new.
Future of Vivian Health
Have an idea that'd make your job easier? We'd love to hear it! This section makes it easy to see what we're building next and add what you'd like to see in future updates.
What do you think about the new recruiter dashboard? Let us know in the comments!