Home health nurses work one-on-one with patients outside a medical setting, in the comfort of the patients' homes. They still tackle many of the same duties as nurses in traditional healthcare settings, with the added perks of having greater autonomy, schedule flexibility and closer relationships with their patients. There are several perks in home health nursing and probably just as many myths. Nurses frequently have an outdated misconception about home health, so we're debunking five of the most common myths about this segment of the healthcare industry.
Myth #1: Home Health is just case management and paperwork
While it's true that home health nurses often spend more time on paperwork and dealing with reimbursement issues than hospital nurses, it's more than just paperwork and goes beyond billing, charting, and case management. Plus, home health nurses use EMRs. The digital version of paper charts makes tracking a patient's medical and treatment history much quicker and easier, thus reducing time spent doing paperwork. Home health nursing can be really clinical, especially in the post-acute phase when you're busy providing a range of medical services to help support your patient's continued recovery from their illness or injury or managing their chronic illness or disability.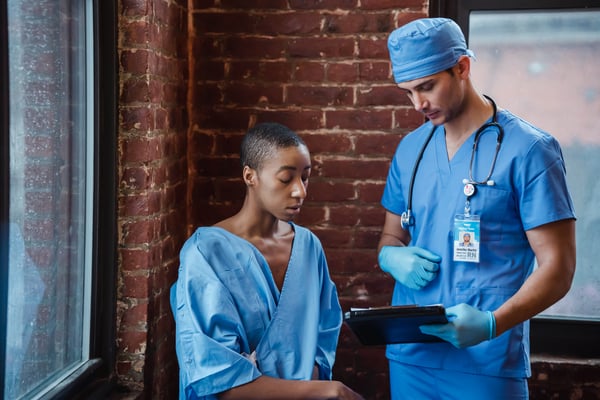 Myth #2: Home Health is only 9 to 5, Monday through Friday
Scheduling is often a major perk of home health nursing because you have more flexibility and autonomy than most other types of nurses. Home health nurses are generally in charge of their own schedules and typically don't follow a strict shift structure as they would in hospitals and other traditional healthcare settings. Hospital nurses may spend 10 to 16 hours a day on their feet, rushing from patient to patient, and seeing 5, 10, or more patients daily in a busy hospital. Home health nurses spend part of their day in their car, driving between patients, and may schedule extra time between patients. The additional time allows for a less hectic day and provides a buffer for unforeseen issues requiring more time with a patient than expected. You basically flex your schedule based on your patients' needs and your preferences.
Myth #3: Home Health is just caregiving
Home health care and home care may sound like the same role, but they're very different. Home care workers are often unlicensed and act as caregivers, performing basic activities of daily living (ADLs), such as dressing, grooming, bathing, feeding, etc. These caregivers may also handle instrumental activities of daily living (IADLs) like shopping, cooking, cleaning, driving, etc.
Conversely, home health care requires a licensed nurse with astute assessment and critical thinking skills. Home health nurses provide little if any caregiving. They supply medically necessary, skilled services to treat various injuries, illnesses, and medical conditions. Home health nurses tailor healthcare services to meet each patient's individual needs and must be able to recognize a decompensating patient to fulfill higher acuity needs as care demands grow.
Myth #4: Home Health is just for senior/geriatrics
Some home health patients are seniors, but home health doesn't limit nurses to a specific patient population. It's a diverse environment with opportunities to care for patients in a wide age range with an array of pathologies. Some of the diverse patient populations a home healthcare nurse may see include mothers and their newborns just home from the hospital and people of all ages who were recently discharged but are still recovering from a serious injury or severe illness. Critically ill or disabled patients or those with chronic illnesses may be of any age, from children to adults. These patients require supportive care or preventative measures to minimize future emergency room and hospital visits.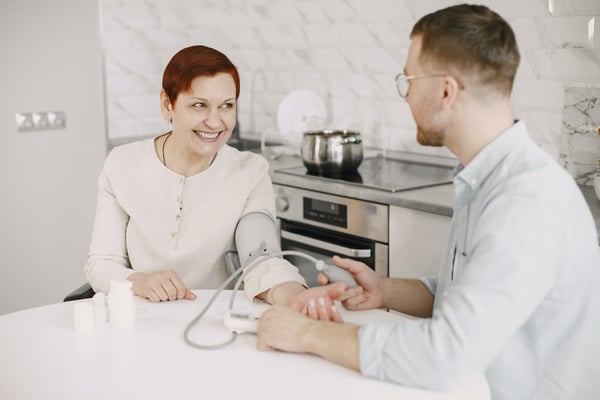 Myth #5: There aren't any long-term opportunities within Home Health
There are roles available that allow upward mobility for home health nurses, including mid-level to upper-level management jobs. Some opportunities for professional growth include becoming a home healthcare case manager. As a home health case manager, you develop, implement, and review healthcare plans for individual patients. You're also in charge of hiring, training, and monitoring a healthcare team, providing you with supervisory experience that helps you transition into other administrative roles.
Another option is becoming a home healthcare administrator. In this position, you'll manage a private health organization or government health program that provides health services to individuals in their homes. You may oversee staff and departments at home health agencies or divisions of hospitals or medical clinics that provide health services to patients in their homes. A home health administrator may specialize in business management or nursing administration based on their expertise and desire to continue climbing the managerial ladder.
Bonus Myth: Home Health is mundane
Home health is anything but mundane. Since you're typically working alone and not in a traditional setting, there are fewer limits on structure, and unique problems may require creative solutions. Each day and each patient can bring distinct challenges that require you to think on your feet and act quickly to avoid negative outcomes. You simply never know what the day will bring. Plus, you enjoy frequent changes of scenery and new cases and new challenges, providing a great way to hone innovative nursing skills.
Find your home health talent on Vivian, and let us help you improve your home health recruitment to fulfill your current and future staffing needs.